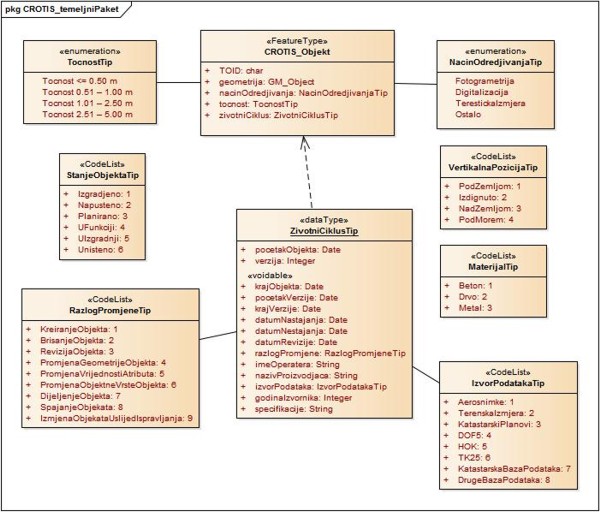 Croatian Topographic Information System CROTIS 2.0 Data Model
Abstract
This article describes data models in two European countries and presents the development of the data model in the Republic of Croatia, describing in detail the modified CROTIS 2.0 data model. Denmark and the Netherlands are taken as examples, as they both have basic topographic databases in the scale of 1:10 000 and have similar area as the Republic of Croatia. It is assumption that the area of the state influences on the cycles and time needed for the data gathering and editing. The intention was to present how these processes are organised in the European countries that have similar amount of data. TOP10DK is a vector topographic base which grew from a topographic maps production base into an original for other spatial registers in Denmark. The second example is Dutch TOP10NL, with special reference to its availability to the public through a web-portal. In Croatia, the CROTIS data model started to develop in 1997 and came into official use in 2000, after which it has been continuously upgraded and improved following developments in technology and, lately, requirements set by the European Union. Interoperability components of the Generic Conceptual Model (GCM) are also described, since meeting their requirements makes it possible to harmonise any data set with INSPIRE.
Keywords
Croatian Topographic Information System (CROTIS), INSPIRE (INfrastructure for SPatial Information) Directive, Basic Topographic Database (BTD), spatial data interoperability components
Copyright (c) 2014 Ivan Landek, Marijan Marjanović, Ivana Šimat
This work is licensed under a
Creative Commons Attribution-ShareAlike 4.0 International License
.
---
The Kartografija i Geoinformacije (Cartography and Geoinformation) journal publishes scientific and professional papers from cartography and other fields (geography, geodesy, geology, forestry, agronomy, history, architecture, pedagogy ...) if they are related to cartography and geoinformation.
We invite authors of papers or contributions to submit text in English (and Croatian if possible) using this site.
---
The Croatian Cartographic Society (CCS) does not necessarily endorse any opinions or recommendations made in article, review or extract contained in this journal nor do they necessarily represent CCS policy.
© CCS, www.kartografija.hr. Journal content is published under CC BY-SA licence.