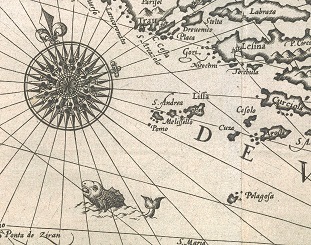 Abstract
This interdisciplinary research is focused on visual images on maps of the known world spanning from the medieval to the early modern period. Regardless of their purpose, which could range from ideological representations of the medieval world, as were O or T maps, to practical sailing maps like portolan charts and other early modern nautical charts of the (already known) world in a smaller scale, they carried the standard scope of geo-cartographic data and content. Besides, they offered a rich illustrative component of respectable graphic quality. This depended on the purpose of the map, as well as the geographical knowledge of its author on one hand and on the skill and expertise of its creator on the other. Through this short synchronic and diachronic overview of the iconographic elements of Old World maps, especially in respect to Croatian lands, some chronological continuities of cartographic presentation were revealed. The spread of ideas and ideologies communicated and disseminated by these will also be discussed.
Keywords
World Maps; Middle Ages; Early Modern Period; Visual Art; Iconography; Imagology
https://doi.org/10.32909/kg.21.38.2<\/a>')" onmouseout="addthis_close()" onclick="return addthis_sendto()">
Copyright (c) 2023 Palmira Krleža, Dubravka Mlinarić
This work is licensed under a
Creative Commons Attribution-ShareAlike 4.0 International License
.
---
The Kartografija i Geoinformacije (Cartography and Geoinformation) journal publishes scientific and professional papers from cartography and other fields (geography, geodesy, geology, forestry, agronomy, history, architecture, pedagogy ...) if they are related to cartography and geoinformation.
We invite authors of papers or contributions to submit text in English (and Croatian if possible) using this site.
---
The Croatian Cartographic Society (CCS) does not necessarily endorse any opinions or recommendations made in article, review or extract contained in this journal nor do they necessarily represent CCS policy.
© CCS, www.kartografija.hr. Journal content is published under CC BY-SA licence.