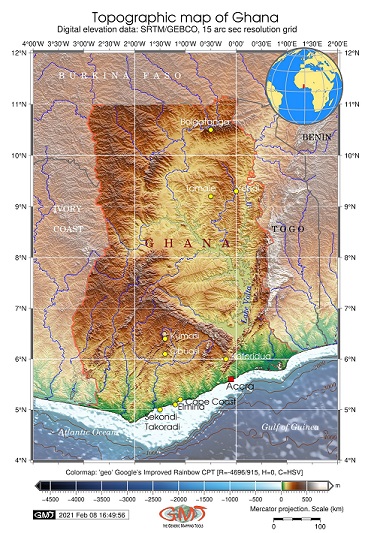 Abstract
Ghana is a country exceptionally rich in geologic mineral resources with contrasting topographic relief and varied geophysical setting. This paper evaluated the geological and geophysical setting of Ghana with a special focus on the impact of the geologic setting and topography on gravity. Specifically, it assessed how variations in geology, topography, landscapes and the environment control the geophysical parameters and how these vary among the major regions of the country – the Volta Basin, Northern Plains, Ashanti-Kwahu (Kumasi) and Coastal Plains in the Accra surroundings. Previous studies utilizing traditional Geographic Information System (GIS) approaches have documented the geologic evolution of Ghana evolved as a part of the West African Craton. As a contribution to the existing research, this paper presents a regional analysis of Ghana by integrated mapping of geology, geophysics and topography of the country. The technical approach of this research focuses on utilizing the console-based scripting cartographic toolset Generic Mapping Tools (GMT) integrated with QGIS for processing and mapping the datasets: General Bathymetric Chart of the Oceans (GEBCO), Earth Gravitational Model 2008 (EGM-2008), gravity grids. The theoretical background is based on the geologic research of West Africa supported by high-resolution data. The paper defines a conceptual cartographic framework for integrated geologic and geophysical visualization in a regional-scale mapping project on Ghana.
Keywords
Ghana; Africa; geophysics; cartography; GMT; QGIS
https://doi.org/10.32909/kg.20.36.2<\/a>')" onmouseout="addthis_close()" onclick="return addthis_sendto()">
Copyright (c) 2022 Polina Lemenkova
This work is licensed under a
Creative Commons Attribution-ShareAlike 4.0 International License
.
---
The Kartografija i Geoinformacije (Cartography and Geoinformation) journal publishes scientific and professional papers from cartography and other fields (geography, geodesy, geology, forestry, agronomy, history, architecture, pedagogy ...) if they are related to cartography and geoinformation.
We invite authors of papers or contributions to submit text in English (and Croatian if possible) using this site.
---
The Croatian Cartographic Society (CCS) does not necessarily endorse any opinions or recommendations made in article, review or extract contained in this journal nor do they necessarily represent CCS policy.
© CCS, www.kartografija.hr. Journal content is published under CC BY-SA licence.