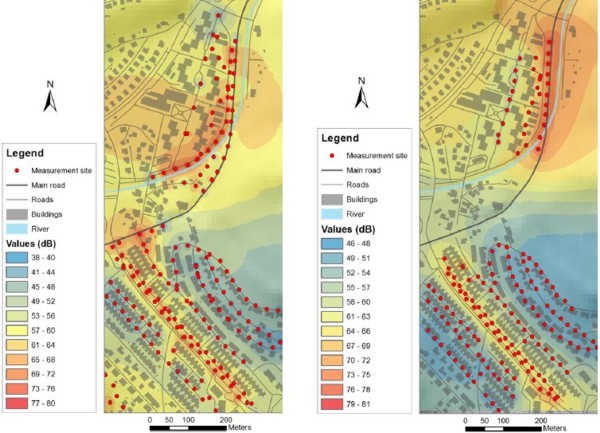 Noise as an Indicator of Residential Areas' Quality in the Municipality of Velenje, Slovenia
Abstract
Noise has been recognized as the air pollutant since it affects the environmental quality. Its effect depends on its level; it may be slightly uncomfortable or so annoying that hinder our business or in extreme cases dangerous to health. The project was focussed on measurements required to produce professional bases, in order to assess degree of exposure of individual sites (and their population) to different sources of noise to prepare an exact spatial presentation and a set of the most urgent and effective remedial action. The results of the study will also be used for: a) establishing anti-noise measures and b) the findings of the study and the data acquired will supplement cartographic base and conditions for land use (Municipal Spatial Plan) and determine the level of protection against noise, thus allowing more simple and authentic issuing of permits to applicants for further spatial use in the researched areas. The Inverse Distance Weighted (IDW) Method enabled a presentation of the measured noise values. The results of this study will serve as a starting point for identification of critical areas with excessive noise level and to determine corrective action.
Keywords
noise, air quality indicator, residential area quality, IDW method, Slovenia
Copyright (c) 2014 Natalija Špeh, Blaž Barborič
This work is licensed under a
Creative Commons Attribution-ShareAlike 4.0 International License
.
---
The Kartografija i Geoinformacije (Cartography and Geoinformation) journal publishes scientific and professional papers from cartography and other fields (geography, geodesy, geology, forestry, agronomy, history, architecture, pedagogy ...) if they are related to cartography and geoinformation.
We invite authors of papers or contributions to submit text in English (and Croatian if possible) using this site.
---
The Croatian Cartographic Society (CCS) does not necessarily endorse any opinions or recommendations made in article, review or extract contained in this journal nor do they necessarily represent CCS policy.
© CCS, www.kartografija.hr. Journal content is published under CC BY-SA licence.