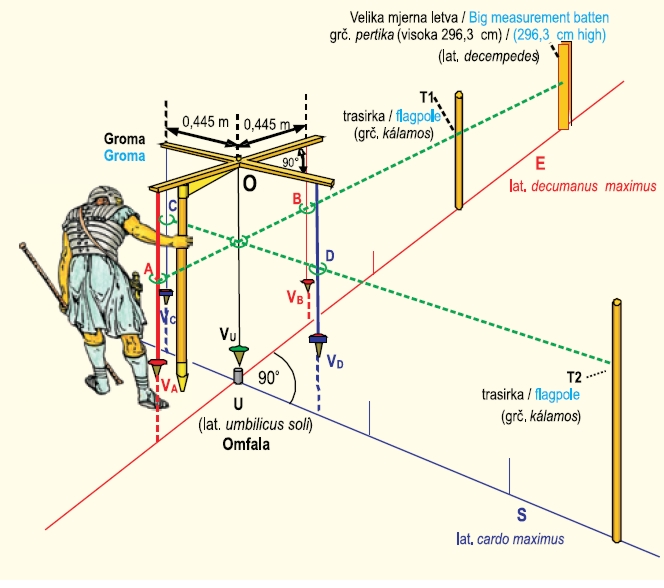 Laying Out Land Parcels and the Oldest Boundary Stone in Croatia from the 4th Century BC
Abstract
Geographical position of the Chora Pharos (nowadays Starogradsko polje), climate conditions and brief historical development of colonization on the island of Hvar are described in the paper. Also described is how Greek from the island of Paros established the town Pharos (today's Stari Grad) and how they constructed Chora Pharos (today's Starogradsko polje). They divided the field Starogradsko polje into rectangular parcels with dimensions 1 Greek stage × 5 Greek stage (181 m × 905 m). The large project "Starogradsko polje" demonstrated that one Pharos foot equals 0.3026 m. They used the groma for pegging out orthogonal angles. Finally, there is a photograph of the boundary stone from the Chora Pharos (Starogradsko polje) from the 4th century before Christ which is deposited in the Archaeological Museum in Zagreb. This is the oldest boundary stone in Croatia and as geodesists, we can consider it a geodetic monument.
Keywords
chora; ager; Starogradsko polje; Faros (Pharos); Stari Grad; Hvar; groma; kálamos (pole); Greeks; island of Páros; Pythagoras' theorem; Greek foot; Greek stage; right angle; boundary stone; Romans
Copyright (c) 2013 Miljenko Solarić, Nikola Solaric
This work is licensed under a
Creative Commons Attribution-ShareAlike 4.0 International License
.
---
The Kartografija i Geoinformacije (Cartography and Geoinformation) journal publishes scientific and professional papers from cartography and other fields (geography, geodesy, geology, forestry, agronomy, history, architecture, pedagogy ...) if they are related to cartography and geoinformation.
We invite authors of papers or contributions to submit text in English (and Croatian if possible) using this site.
---
The Croatian Cartographic Society (CCS) does not necessarily endorse any opinions or recommendations made in article, review or extract contained in this journal nor do they necessarily represent CCS policy.
© CCS, www.kartografija.hr. Journal content is published under CC BY-SA licence.