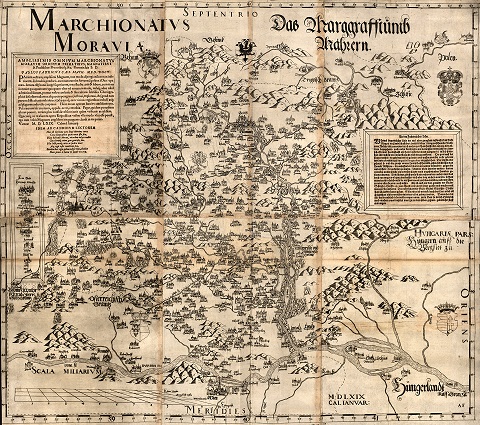 Abstract
The map of Moravia (1569) by the renowned Vienna scholar, Paulus Fabricius (ca. 1528-1589), is still considered to be the oldest known cartographic representation of Moravia. This paper focuses on the cartographic analysis of the map with the aim to identify possible methods of its construction with regard to some known circumstances of its origin. The author of the map mentions in the appended texts that he travelled through Moravia several times. The methodology of the work is based on selected spatial analyses of the positional and height aspects of displayed settlements. The achieved results are compared and discussed in the context of other information sources, especially the existing settlement structure and contemporary communication network. The conclusions reveal a correlation between the density of the depicted settlements and the proximity of a modelled communication network. The orographic conditions of Moravia have a significant influence on the map content. The plains are covered in detail, hilly lands and highlands are rarely and randomly mapped, whereas the mountains are not described at all. In the peripheral parts of the area of interest, the author probably worked only with data from travel itineraries. With regard to achieved results, it can be assumed that there is potential to apply the established procedures to the analysis of old maps of similar type. Unlike later maps, they are based on the author's travelling experiences and impressions, rather than on complex measurements of geographical coordinates.
Keywords
Moravia; Paulus Fabricius; GIS; spatial analyses; itineraries
https://doi.org/10.32909/kg.21.38.3<\/a>')" onmouseout="addthis_close()" onclick="return addthis_sendto()">
Copyright (c) 2023 Josef Chrást, Zdeněk Stachoň
This work is licensed under a
Creative Commons Attribution-ShareAlike 4.0 International License
.
---
The Kartografija i Geoinformacije (Cartography and Geoinformation) journal publishes scientific and professional papers from cartography and other fields (geography, geodesy, geology, forestry, agronomy, history, architecture, pedagogy ...) if they are related to cartography and geoinformation.
We invite authors of papers or contributions to submit text in English (and Croatian if possible) using this site.
---
The Croatian Cartographic Society (CCS) does not necessarily endorse any opinions or recommendations made in article, review or extract contained in this journal nor do they necessarily represent CCS policy.
© CCS, www.kartografija.hr. Journal content is published under CC BY-SA licence.