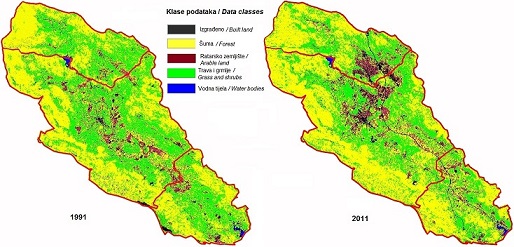 Abstract
This paper aims to determine the landscape development trends of Central Lika and to analyze their interrelation with observed demographic inter-census changes. For this purpose, Landsat multispectral images and census data of the Croatian Bureau of Statistics were used for both observed years, and appropriate methods of analysis were selected. In the analysis of the satellite images, an approach was used that involves the use of data sets that are related to spring and autumn. Using the ENVI 4.7 computer programme, five classes were defined for each analyzed year: Built land, Forest, Water bodies, Arable land, Grass and shrubs, while five landscape development trends and their surface shares were identified based on their interrelation in the observed period (1991−2011): Unchanged (87.7 %), Extensification and vegetation succession (7.6 %), Intensification (2.8 %), Upbuilding (1.5 %), Water bodies (0.4 %). The obtained results showed that Upbuilding and Intensification are more represented in the central area, which is in line with the least negative demographic indicators, and with the process of urbanisation of the Town of Gospić. Extensification and vegetation succession is more prevalent in peripheral areas, where the most negative demographic indicators are more pronounced, which was found to be in line with the process of deruralisation and deagrarisation. By analyzing landscape development trends and the processes of the Central Lika landscape from different perspectives and aspects, this study allows for their better understanding.
Keywords
satellite images, demographic data, landscape change, land cover/land use, Central Lika
https://doi.org/10.32909/kg.21.37.2<\/a>')" onmouseout="addthis_close()" onclick="return addthis_sendto()">
Copyright (c) 2022 Marta Hamzić
This work is licensed under a
Creative Commons Attribution-ShareAlike 4.0 International License
.
---
The Kartografija i Geoinformacije (Cartography and Geoinformation) journal publishes scientific and professional papers from cartography and other fields (geography, geodesy, geology, forestry, agronomy, history, architecture, pedagogy ...) if they are related to cartography and geoinformation.
We invite authors of papers or contributions to submit text in English (and Croatian if possible) using this site.
---
The Croatian Cartographic Society (CCS) does not necessarily endorse any opinions or recommendations made in article, review or extract contained in this journal nor do they necessarily represent CCS policy.
© CCS, www.kartografija.hr. Journal content is published under CC BY-SA licence.