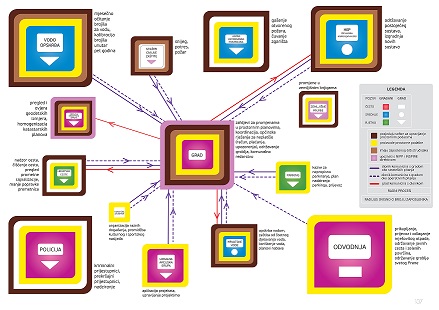 Abstract
The paper describes the establishment of a webGIS pilot project in the city of Sinj, based on the research of the development of local spatial data infrastructure (LSDI) as described in the doctoral thesis (Marasović 2020). A set of LSDI development indicatorswere tested in the pilot project. The indicators to be tested were discovered in the mentioned doctoral thesis using statistical regression, statistical correlation and focus groups. The following key indicators have been identified: 1) funding from the local level, 2) awareness, 3) support for development from the decision makers, and 4) administration and citizens recognized as the main LSDI user groups. As an example of LSDI, most main stakeholders of the city of Sinj were interviewed and mapped according to their relevant capabilities, working processes and interaction between the main stakeholders. All the identified indicators were confirmed. The pilot project confirmed that the decision on investment in LSDI from the local level decision makers is essential for its implementation. For such a decision, raising the awareness of the decision makers and citizens about the benefits of LSDI is vital. Citizens and city administration were mapped as two stakeholders which interact most among the stakeholders. Delegating an employee responsible for the implementation and support from the decision makers during the implementation process are essential for success. Human Resources and Public Relationships management activities were recognized as very important in the process of raising awareness of LSDI. 
Keywords
pilot project; LSDI; webGIS; indicators of development
https://doi.org/10.32909/kg.20.36.3<\/a>')" onmouseout="addthis_close()" onclick="return addthis_sendto()">
Copyright (c) 2022 Slaven Marasović, Joep Crompvoets, Vesna Poslončec-Petrić
This work is licensed under a
Creative Commons Attribution-ShareAlike 4.0 International License
.
---
The Kartografija i Geoinformacije (Cartography and Geoinformation) journal publishes scientific and professional papers from cartography and other fields (geography, geodesy, geology, forestry, agronomy, history, architecture, pedagogy ...) if they are related to cartography and geoinformation.
We invite authors of papers or contributions to submit text in English (and Croatian if possible) using this site.
---
The Croatian Cartographic Society (CCS) does not necessarily endorse any opinions or recommendations made in article, review or extract contained in this journal nor do they necessarily represent CCS policy.
© CCS, www.kartografija.hr. Journal content is published under CC BY-SA licence.