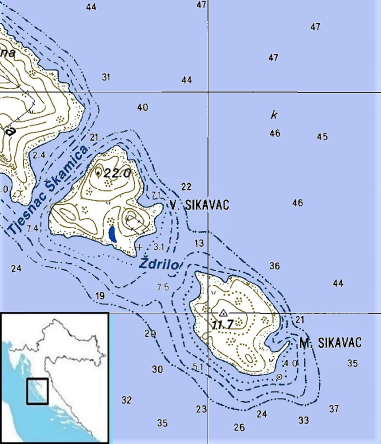 Small Geographic Objects in the Focus of Research – the Example of the Sikavci Islets on Detailed Maps
Abstract
In Nin-Ljubač Channel (Ninsko-Ljubački Kanal), off the coast of the Island of Pag, near the village of Vlašići in Croatia, there are two islets. On recent topographic maps they are marked as Veli (0.15 square km) and Mali Sikavac (0.14 square km). Local sailors have always used the plural name Ćićavci, or Ćikavci (Cikavci) (Large and Small) for them, and on some older maps, they appear as Scogli Zicavatz or Scogli Zicovac. The larger one (Veli Sikavac/Ćićavac) was also called St. Paul on the first topographic maps. More recently, claims that a fortress was found on Veli Sikavac near the ruins of a church have been confirmed by contemporary archeological research. As far as we know, the oldest clear depictions of these islets are on sixteenth-century maps, though the labels are barely legible (Tunor ?, Taner porina?). In fact, the remnants of the church, the ramparts, and an archival mention of a Venetian sentry-post in the 15th century, which the author has mentioned earlier on several occasions, have been proved to be accurate by recent archaeological research. Also the remains have been found of (probably) an older church underneath a smaller one (with one or both named on some older maps variously as St. Bastian, St. Barbara, St. Roch, and finally St. Paul). Obviously, the strategic importance of the islet was prominent in the complex sea passage between Zadar Channel and Kvarnerić on the one hand, and Velebit Channel on the other, from at least Byzantine times,. Using cartographic templates, the author presents several variants of the possible etymology of the names of these islets.
Keywords
Veli Sikavac; Mali Sikavac; islets; maps; Adriatic Croatia; Island of Pag; Vlašići
Copyright (c) 2018 Damir Magaš
This work is licensed under a
Creative Commons Attribution-ShareAlike 4.0 International License
.
---
The Kartografija i Geoinformacije (Cartography and Geoinformation) journal publishes scientific and professional papers from cartography and other fields (geography, geodesy, geology, forestry, agronomy, history, architecture, pedagogy ...) if they are related to cartography and geoinformation.
We invite authors of papers or contributions to submit text in English (and Croatian if possible) using this site.
---
The Croatian Cartographic Society (CCS) does not necessarily endorse any opinions or recommendations made in article, review or extract contained in this journal nor do they necessarily represent CCS policy.
© CCS, www.kartografija.hr. Journal content is published under CC BY-SA licence.