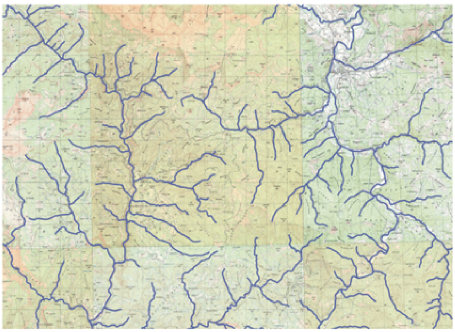 The River Network of Montenegro in the GIS Database
Abstract
The subject of this paper is the systematization and precise identification of the structure of river networks in Montenegro in both planimetric and hypsometric dimensions, using cartometry. This includes the precise determination of the morphometric parameters of river flows, their numerical display, graphical display, and documentation. This allows for a number of analyses, for example, of individual catchments, the mutual relations of individual watercourses within a higher order catchment, and the classification of flows according to river and sea basins and their relationship to the environment. In addition, there is the potential for expanding the database further, with a view to continuous, systematic, scientific and practical follow-up in all or part of the geographic space. The cartometric analysis of the river network in Montenegro has a special scientific, and also a social value. In the geographical structure of all countries, including Montenegro, rivers occupy a central place as individual elements and integral parts of the whole. There is almost no human activity which is not related to river flows, or related phenomena and processes. The river network as part of a geographic space continues to gain in importance, and therefore studying it must connect with the other structural elements within which it functions. These are the basic relief characteristics, climate, and certain hydrographic characteristics. A complete theoretical and methodological approach to this problem forms the basis for a scientific understanding of the significance of the river network of Montenegro.
Keywords
river network; river basin; cartometry; geospace; database; GIS
Copyright (c) 2017 Goran Barović, Duško Vujačić, Velibor Spalević
This work is licensed under a
Creative Commons Attribution-ShareAlike 4.0 International License
.
---
The Kartografija i Geoinformacije (Cartography and Geoinformation) journal publishes scientific and professional papers from cartography and other fields (geography, geodesy, geology, forestry, agronomy, history, architecture, pedagogy ...) if they are related to cartography and geoinformation.
We invite authors of papers or contributions to submit text in English (and Croatian if possible) using this site.
---
The Croatian Cartographic Society (CCS) does not necessarily endorse any opinions or recommendations made in article, review or extract contained in this journal nor do they necessarily represent CCS policy.
© CCS, www.kartografija.hr. Journal content is published under CC BY-SA licence.