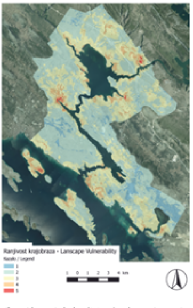 An Overview of GIS Applications in Landscape Planning
Abstract
Landscape planning is a branch of the interdisciplinary profession of landscape architecture, which is based on landscape quality protection, and focuses on harmonising different values and interests in spatial development. The modern paradigm of the landscape is based on multidimensionality and interdisciplinarity, which makes the application of GIS indispensable in researching and analysing landscape approaches. This paper presents the application of GIS within the methods and tools of landscape planning, from the perspective of the landscape architecture profession in Croatia, involving the following methods: landscape evaluation, spatial modelling, development of strategic plans, landscape and environmental impact assessment including visual analysis and simulations, landscape character assessment, and landscape plans. The paper also highlights the diversity of potential landscape planning approaches within the instruments of different sectors, concentrating on responsibility for the landscape, spatial planning, natural and environmental protection, conservation of cultural heritage, land policies, rural and tourist development, and energy issues.
The paper also indicates that, despite signing the European Landscape Convention, via which Croatia showed interest in innovative planning, conservation and management approaches, there has still been no significant shift at the institutional level, with the occasional implementation of the landscape approaches in practice. The lack of use of GIS tools is especially evident within different sectoral instruments, at all levels of spatial thinking and decision-making.
Keywords
landscape planning; landscape architecture; GIS; landscape analysis; landscape evaluation
Copyright (c) 2017 Dora Tomić Reljić, Vesna Koščak Miočić-Stošić, Sonja Butula, Goran Andlar
This work is licensed under a
Creative Commons Attribution-ShareAlike 4.0 International License
.
---
The Kartografija i Geoinformacije (Cartography and Geoinformation) journal publishes scientific and professional papers from cartography and other fields (geography, geodesy, geology, forestry, agronomy, history, architecture, pedagogy ...) if they are related to cartography and geoinformation.
We invite authors of papers or contributions to submit text in English (and Croatian if possible) using this site.
---
The Croatian Cartographic Society (CCS) does not necessarily endorse any opinions or recommendations made in article, review or extract contained in this journal nor do they necessarily represent CCS policy.
© CCS, www.kartografija.hr. Journal content is published under CC BY-SA licence.