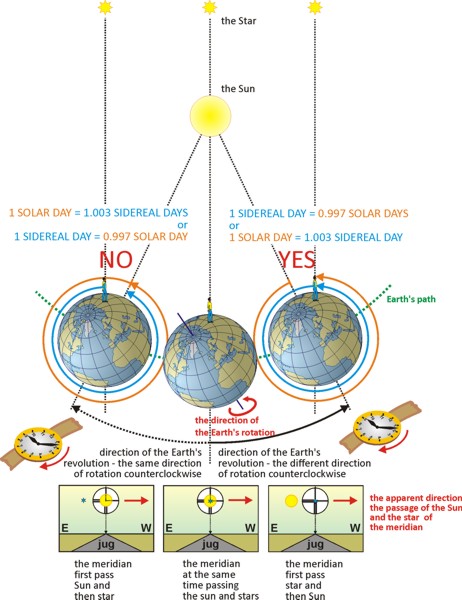 How to prove the Earth's daily and annual direction of its spinning
Abstract
Every day, we can observe the Sun's apparent motion around the sky. It rises in the east, gets to its highest point above the horizon at noon, and sets in the west. The stars appear to be fixed on the sky and move around apparently together with the Sun. We have daytime1 and night. The apparent annual motion of the Sun results in seasons when we can see different stars. These directly visible daily and annual changes result from real Earth's motions – the Earth's daily and annual spinning (rotation and revolution) and they are not easily explainable without understanding the Earth's motions.

In order to understand the apparent daily and annual motions and motion direction of the Sun and stars (night sky), it is very important to know where we are on the Earth, what is our geographic position, i.e. to know the cardinal points. At the same time, one should take into consideration also the direction of the Earth's rotation and revolution.

What is the Earth's daily or annual direction of spinning as related to the direction of clock hands, and how do we prove it?
Copyright (c) 2015 Drago Špoljarić
This work is licensed under a
Creative Commons Attribution-ShareAlike 4.0 International License
.
---
The Kartografija i Geoinformacije (Cartography and Geoinformation) journal publishes scientific and professional papers from cartography and other fields (geography, geodesy, geology, forestry, agronomy, history, architecture, pedagogy ...) if they are related to cartography and geoinformation.
We invite authors of papers or contributions to submit text in English (and Croatian if possible) using this site.
---
The Croatian Cartographic Society (CCS) does not necessarily endorse any opinions or recommendations made in article, review or extract contained in this journal nor do they necessarily represent CCS policy.
© CCS, www.kartografija.hr. Journal content is published under CC BY-SA licence.