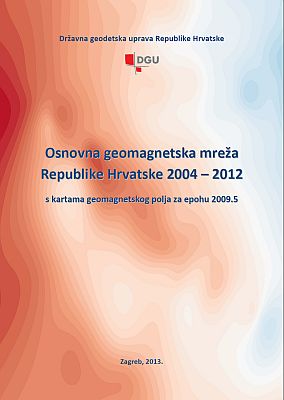 Basic Geomagnetic Network of the Republic of Croatia 2004 – 2012, with Geomagnetic Field Maps for 2009.5 epoch
Abstract
After more than half a century, scientific book Basic Geomagnetic Network of the Republic of Croatia 2004 – 2012, with Geomagnetic Field Maps for 2009.5 epoch describes the recent geomagnetic field on Croatian territory. A review of research in the past decade as well as the original solutions makes the book a document of contribution to geodesy and geomagnetism in Croatia.
The book's introduction gives an overview of two centuries of history and the strategic, security, economic and scientific significance of knowing the geomagnetic field on the Croatian territory. All the activities related to the updating of the geomagnetic information, which took place in the last decade, signified a big step toward the countries where geomagnetic survey is a mature scientific and technical discipline, and a scientific contribution to understanding of the nature of the Earth's magnetism.
The declination, inclination and total intensity maps (along with the normal annual changes) for the epoch 2009.5 are given in the Appendix. The book Basic Geomagnetic Network of the Republic of Croatia 2004 – 2012, with Geomagnetic Field Maps for 2009.5 epoch (ISBN 978-953-293-521-9) is published by the State Geodetic Administration of the Republic of Croatia. Beside editor in chief, M. Brkić, the authors are: E. Vujić, D. Šugar, E. Jungwirth, D. Markovinović, M. Rezo, M. Pavasović, O. Bjelotomić, M. Šljivarić, M. Varga and V. Poslončec-Petrić. The book contains 48 pages and 3 maps, and is published in 200 copies. CIP record is available in digital catalogue of the National and University Library in Zagreb under number 861937.
Keywords
geomagnetism, Croatia
Copyright (c) 2014 Mario Brkić, Danko Markovinović, Enio Jungwirth
This work is licensed under a
Creative Commons Attribution-ShareAlike 4.0 International License
.
---
The Kartografija i Geoinformacije (Cartography and Geoinformation) journal publishes scientific and professional papers from cartography and other fields (geography, geodesy, geology, forestry, agronomy, history, architecture, pedagogy ...) if they are related to cartography and geoinformation.
We invite authors of papers or contributions to submit text in English (and Croatian if possible) using this site.
---
The Croatian Cartographic Society (CCS) does not necessarily endorse any opinions or recommendations made in article, review or extract contained in this journal nor do they necessarily represent CCS policy.
© CCS, www.kartografija.hr. Journal content is published under CC BY-SA licence.