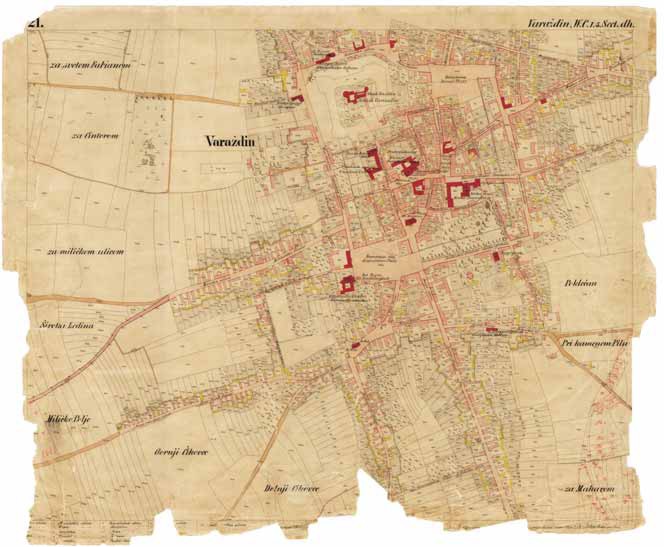 Analysis for Producing a Facsimile of the Cadastral Map of Varaždin
Abstract
This paper investigates and suggests methods for producing a facsimile of the 1 860 cadastral map of Varaždin. The methods used to produce the map, the coordinate systems, map contents, usage, maintenance and damage are described. Three samples from the map that display the elements of damage noted were researched, and the possibility of replacing damaged sections with undamaged sections using digital methods investigated. The sources available were the original cadastral colour map of Varaždin, along with the line art cadastral map and field cadastral sketches. The original colour and line art maps were scanned using the DeSkan Express scanning system for large formats. A flatbed UMAX Mirage II A3 scanner was used for scanning the field cadastral map. For the research image-processing, Adobe Photoshop CE 7.0 software was used, although it was primarily designed for processing photographs. The colour separation method was rejected from the start, since the map was made by hand. The paper discusses the possibility of copying and inserting missing parts from additional map sources, changing the colour of the paper to white or another colour, removing the map content added in red ink and lead pencil, and so on. The discussion is based on actual examples from the digital image. The conclusion suggests image-processing methods for achieving optimal results in producing a facsimile of the Varaždin cadastral map.
Keywords: facsimile; cadastral map; map content; scanning; digital image processing
Copyright (c) 2013 Mirko Husak
This work is licensed under a
Creative Commons Attribution-ShareAlike 4.0 International License
.
---
The Kartografija i Geoinformacije (Cartography and Geoinformation) journal publishes scientific and professional papers from cartography and other fields (geography, geodesy, geology, forestry, agronomy, history, architecture, pedagogy ...) if they are related to cartography and geoinformation.
We invite authors of papers or contributions to submit text in English (and Croatian if possible) using this site.
---
The Croatian Cartographic Society (CCS) does not necessarily endorse any opinions or recommendations made in article, review or extract contained in this journal nor do they necessarily represent CCS policy.
© CCS, www.kartografija.hr. Journal content is published under CC BY-SA licence.