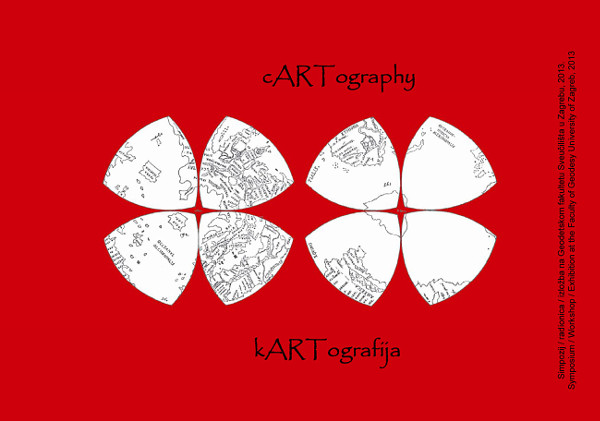 cARTography / kARTografija – Conference / Exhibitions / Workshop, Zagreb, April 15, 2013
Abstract
The Croatian Cartographic Society, the Faculty of Geodesy and the Aca­demy of Fine Arts of the Univer­sity of Zagreb, in collaboration with the Department of Geography of the University of Zadar, organised the con­fe­rence Cartography and Art – cARTography. Prof. Dr. Georg Gartner, President of the International Cartographic Association – ICA was a keynote speaker. When studying images, maps are usually considered one type of object, while pictures are considered another type of object.
Maps provide information on positions and sizes of settlements and relations between settle­ments – these data can usually be mea­sured. In contrast to maps, pictures of landscape evoke ideas; their goal is to communicate quality of settlement or stimulate viewer's emotions. Maps are closer to science and pictures of landscape are closer to art; this is the usual view.
Keywords
cartography; art; conference; exhibition; workshop
Copyright (c) 2013 Miljenko Lapaine
This work is licensed under a
Creative Commons Attribution-ShareAlike 4.0 International License
.
---
The Kartografija i Geoinformacije (Cartography and Geoinformation) journal publishes scientific and professional papers from cartography and other fields (geography, geodesy, geology, forestry, agronomy, history, architecture, pedagogy ...) if they are related to cartography and geoinformation.
We invite authors of papers or contributions to submit text in English (and Croatian if possible) using this site.
---
The Croatian Cartographic Society (CCS) does not necessarily endorse any opinions or recommendations made in article, review or extract contained in this journal nor do they necessarily represent CCS policy.
© CCS, www.kartografija.hr. Journal content is published under CC BY-SA licence.