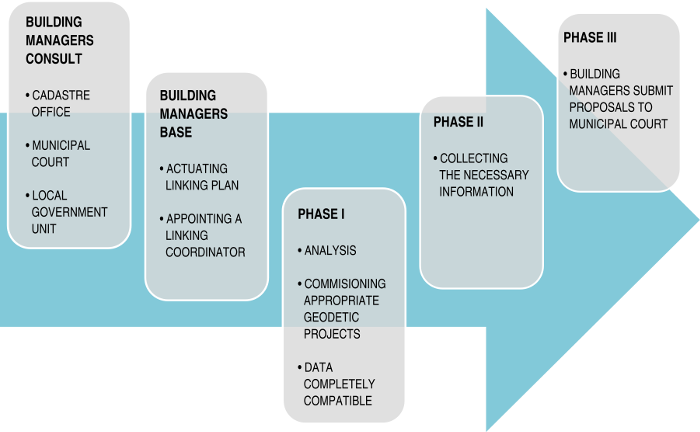 The Role of the Geodetic Profession in Linking the Land Registry and Book of Deposited Contracts
Abstract
A large majority of apartment tenures for apartments acquired at the beginning of the 1990s in Croatia have not yet been entered in the Land Registry. The reason for not entering ownership in the books is the same or almost the same as during purchase: the inconsistency of official data on lots on which buildings have been built, i.e. data from the Cadastre and the Land Registry, incomplete building documentation for completed structures and unresolved ownership issues regarding cadastre lots (e.g. those still owned by a local authority, companies which no longer exist, unknown proprietors, etc.). The Act on Ownership and the Regulations on Linking the Book of Deposited Contracts and the Land Registry prescribe the entry of apartment ownership, as recorded in the Book of Deposited Contracts, in the Land Registry. Taking into consideration the complexity of the issue, this paper elaborates the facts, obstacles and proposals in the process of linking the Land Registry with the Book of Deposited Contracts, from the surveyor's point of view with regard to analysing the problem. Surveying is the profession competent to link and coordinate the state of data on cadastre lots on which buildings containing apartments with tenancy rights have been built. Using specific information provided by three building managers, the facts on ownership entry in the Land Registry and the Book of Deposited Contracts of actual buildings are presented in this paper. Furthermore, an overview is provided of the preliminary actions required, in the form of producing suitable surveying plans to give building managers direction and some guidance as to which steps to take in successfully tackling the issue of linking the Land Registry with the Book of Deposited Contracts.
Keywords
Land Registry, Book of Deposited Contracts, cadastre, ownership
Copyright (c) 2013 Marija Brajković
This work is licensed under a
Creative Commons Attribution-ShareAlike 4.0 International License
.
---
The Kartografija i Geoinformacije (Cartography and Geoinformation) journal publishes scientific and professional papers from cartography and other fields (geography, geodesy, geology, forestry, agronomy, history, architecture, pedagogy ...) if they are related to cartography and geoinformation.
We invite authors of papers or contributions to submit text in English (and Croatian if possible) using this site.
---
The Croatian Cartographic Society (CCS) does not necessarily endorse any opinions or recommendations made in article, review or extract contained in this journal nor do they necessarily represent CCS policy.
© CCS, www.kartografija.hr. Journal content is published under CC BY-SA licence.