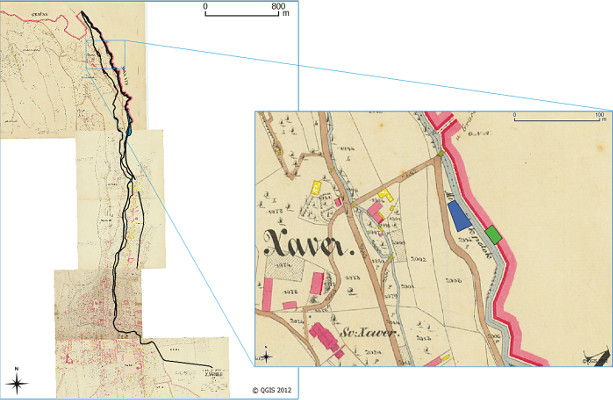 Cartographic-Historical Analyses of the Medveščak Stream Regulation and Quantum GIS
Abstract
The Medveščak Stream used to be very important for the economic development of Zagreb. Water from the stream and its confluent, the artificial mill canal of Pretoka (Melinski potok) was used for centuries to power mills, bathing areas, manufacture and industrial objects. Due to frequent floods and summer droughts, the stream's unregulated course was problematic, resulting in a need to move it to a new and partly covered basin. Stream regulation caused many objects to close down and change the environment and development of the modern city of Zagreb. By applying Quantum GIS to written historical sources and cadastral plans from different periods (plan sheets of the 1st cadastral survey from 1862 to 1864 on which the entire course of the stream is visible and plan sheets of the 2nd cadastral survey from 1909 to 1913, representing the situation after stream regulation), analyses were done of changes resulting from stream regulation and represented as thematic maps and attribute tables.
Keywords
map, Medveščak Stream, GIS, analysis
Copyright (c) 2013 Ivka Kljajić, San Mikulec
This work is licensed under a
Creative Commons Attribution-ShareAlike 4.0 International License
.
---
The Kartografija i Geoinformacije (Cartography and Geoinformation) journal publishes scientific and professional papers from cartography and other fields (geography, geodesy, geology, forestry, agronomy, history, architecture, pedagogy ...) if they are related to cartography and geoinformation.
We invite authors of papers or contributions to submit text in English (and Croatian if possible) using this site.
---
The Croatian Cartographic Society (CCS) does not necessarily endorse any opinions or recommendations made in article, review or extract contained in this journal nor do they necessarily represent CCS policy.
© CCS, www.kartografija.hr. Journal content is published under CC BY-SA licence.