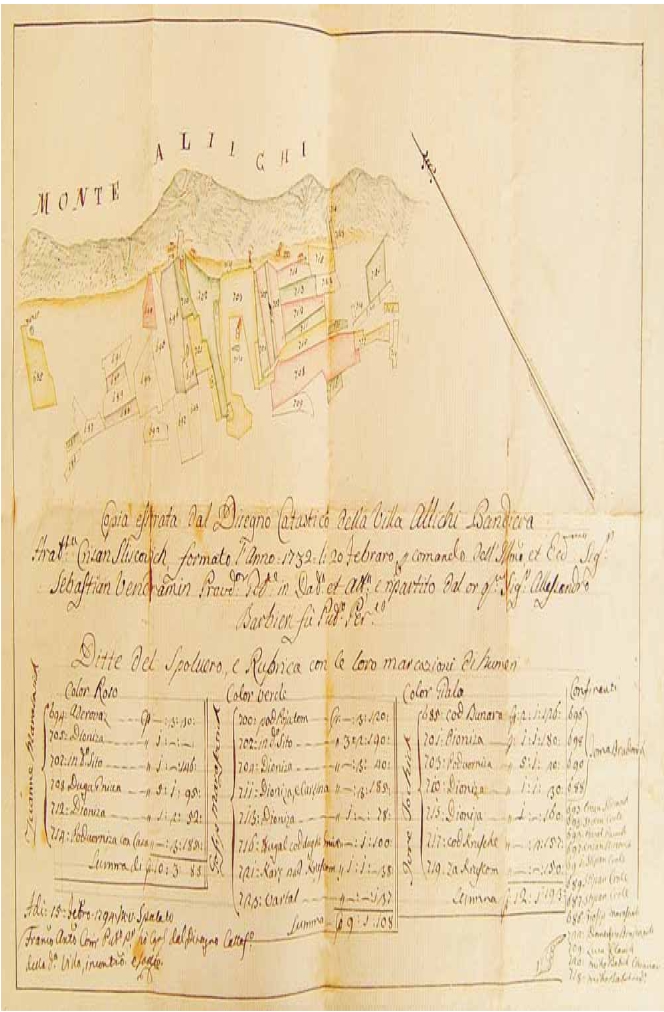 Cartographic Collection of the Kurir Family in the State Archive in Zadar
Abstract
Based on the example of the Cartographic Collection of the Kurir Family, this paper provides an overview of several archival finding aids from the State Archive in Zadar. Authors observed the changes of the collection title and emphasized possible difficulties which arose as consequences of those changes. A list of maps preserved in the collection is published for the first time. Furthermore, based on literature, basic data on land surveyors from the Kurir family was reconstructed.
In addition, the Cartographic Collection of the Kurir Family and the Cadastre of the Imotski Area fund were compared. The example shows how incorrect citation of the collection can lead the research in the wrong direction.
Based on conducted research, it can be concluded that the cadastral plans within the Cartographic Collection of the Kurir Family represent an inexhaustible source of data and valuable cartographic heritage. Considering the condition the plans are in, it is necessary to digitalise them and in that way preserve them. Application of new possibilities, especially ARHiNET is expected to help the process.
Keywords
Cartographic Collection of the Kurir Family; cadastral maps of Dalmatia, Kurir Maps; Cadastre of Imotski Area, cadastre; State Archive in Zadar; Kurir family; surveyors
Copyright (c) 2013 Ana Pejdo, Miljenko Lapaine
This work is licensed under a
Creative Commons Attribution-ShareAlike 4.0 International License
.
---
The Kartografija i Geoinformacije (Cartography and Geoinformation) journal publishes scientific and professional papers from cartography and other fields (geography, geodesy, geology, forestry, agronomy, history, architecture, pedagogy ...) if they are related to cartography and geoinformation.
We invite authors of papers or contributions to submit text in English (and Croatian if possible) using this site.
---
The Croatian Cartographic Society (CCS) does not necessarily endorse any opinions or recommendations made in article, review or extract contained in this journal nor do they necessarily represent CCS policy.
© CCS, www.kartografija.hr. Journal content is published under CC BY-SA licence.