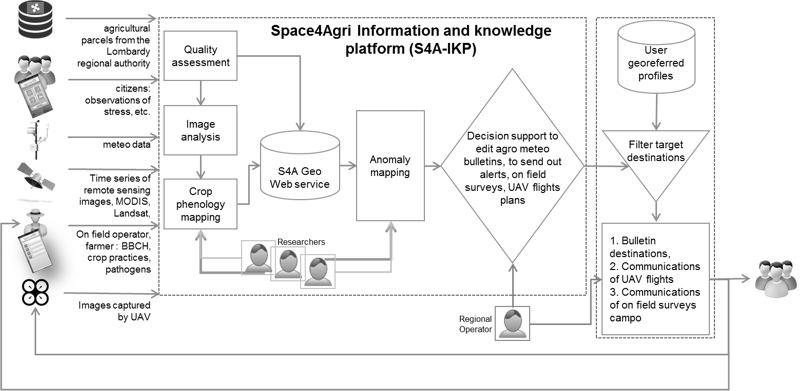 A Geospatial Data Infrastructure Deploying an Information and Knowledge Platform for the Agriculture Sector
Abstract
The paper reports a case study on the design and development of an Information and Knowledge-based Platform (IKP), whose core is a Geospatial Data Infrastructure (GDI). The IKP aims to support the agriculture sector in the Lombardy region of Italy. The main novelty of the present work is related primarily to the management of geospatial data sets and time series from heterogeneous data sources. Authoritative bodies provide access to databases of agricultural declarations, agronomic cadastral maps, and real-time meteorological data. Research institutions produce geospatial data sets and time series by processing and analysing remote sensing images, both multispectral optical and SAR (Synthetic Aperture Radar) images. Finally, citizens and volunteers, such as farmers, or on-field operators belonging to agricultural associations, report in situ observations using smart technologies. The technological framework presents a novel approach related both to the workflow management of geospatial data sets and time series of heterogeneous sources, and the integrated processing of Volunteered Geographic Information (VGI) within a GDI. The paper describes a prototype IKP, which provides a feasible solution that can be used for technology transfer in the real implementation of the IKP in regional and national agriculture sectors.
Keywords
ICT, Geospatial and Mainstream Web, GDI, metadata, geospatial data, automation, VGI, Remote Sensing Data, Sensor Data, Agro Geoinformatics, Space4Agri
Copyright (c) 2015 Tomáš Kliment, Gloria Bordogna, Luca Frigerio
This work is licensed under a
Creative Commons Attribution-ShareAlike 4.0 International License
.
---
The Kartografija i Geoinformacije (Cartography and Geoinformation) journal publishes scientific and professional papers from cartography and other fields (geography, geodesy, geology, forestry, agronomy, history, architecture, pedagogy ...) if they are related to cartography and geoinformation.
We invite authors of papers or contributions to submit text in English (and Croatian if possible) using this site.
---
The Croatian Cartographic Society (CCS) does not necessarily endorse any opinions or recommendations made in article, review or extract contained in this journal nor do they necessarily represent CCS policy.
© CCS, www.kartografija.hr. Journal content is published under CC BY-SA licence.